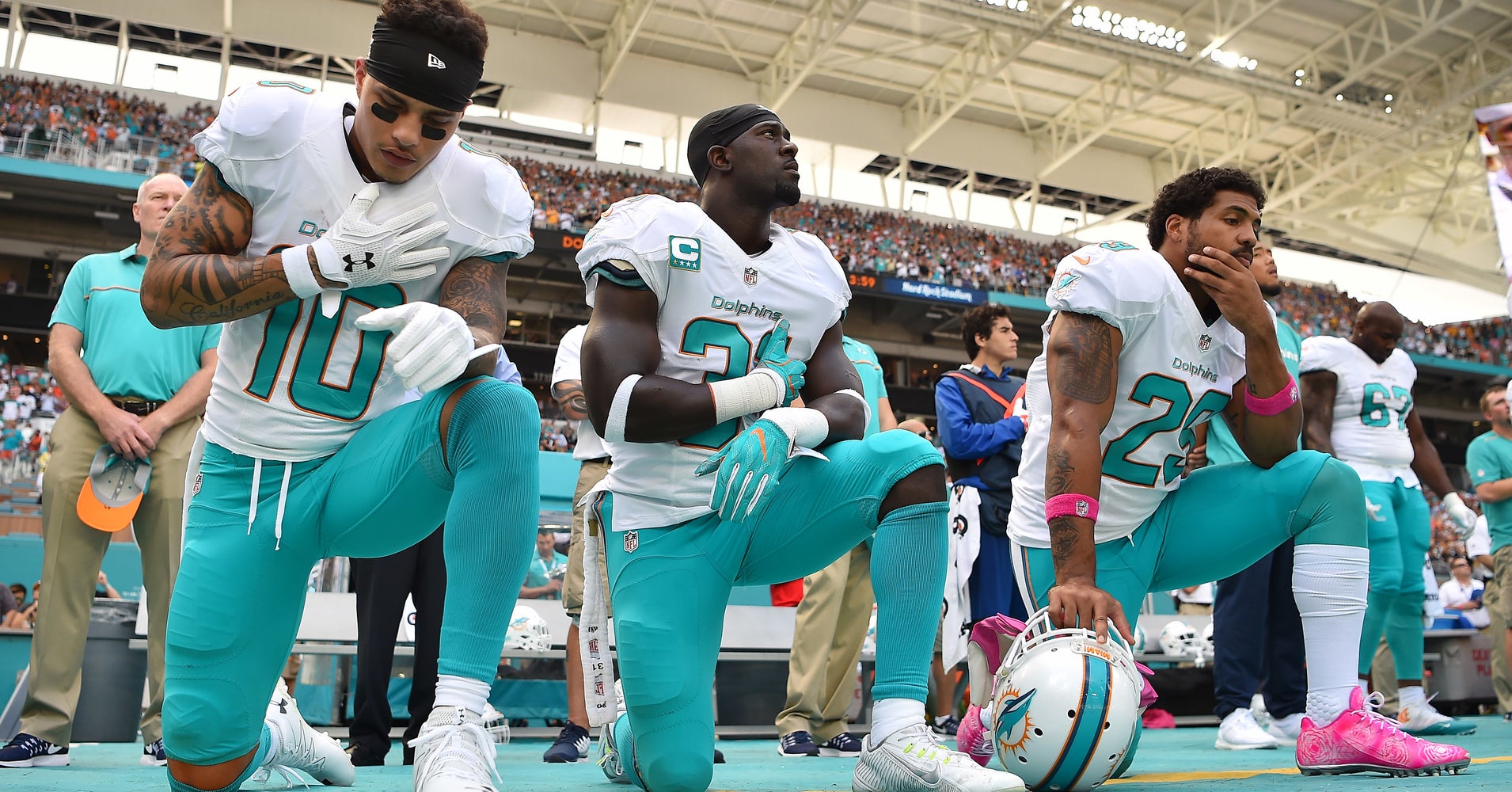 The NFL's regular season is a month away, but players are already defying the league's new policy banning peaceful protests during the national anthem.
The Miami Dolphins' Kenny Stills and Albert Wilson both knelt during the anthem ahead of their preseason opener game against the Tampa Bay Buccaneers, according to Miami Herald sports reporter Adam Beasely.
It was a show of solidarity with the ongoing protests against police brutality and racial injustice, launched by former NFL quarterback Colin Kaepernick in 2016 and banned by NFL Commissioner Roger Goodell in May. 
Kaepernick applauded the Dolphins players shortly after the display for their protest of "systemic oppression."
NFL officially launched their preseason with a Hall of Fame game last week.
Goodell announced the new anthem policy ― which requires players to "stand and show respect for the flag and anthem ― in response to the growing number of NFL players who were joining Kaepernick's movement to spread awareness about racial injustice, sparking controversy nationwide. The growing popularity of the peaceful protest particularly angered President Donald Trump, who said the act was unpatriotic and called for participating players to be fired.
According to the new policy, players who do not participate in the anthem are allowed to remain in the locker room during the anthem. Those who violate the policy could be fined by the league.
The Philadelphia Eagles' Malcolm Jenkins and De'Vante Bausby showed resistance to the ban before their game against the Pittsburgh Steelers by raising fists during the anthem, while their teammate Chris Long placed his hand on Jenkins' shoulder, according to Philadelphia-based sports reporter Les Bowen.
Michael Bennett of the Eagles did not participate in the anthem and instead walked out of the tunnel and toward the bench while the anthem was sung, Bowen reported.
In Florida, Jalen Ramsey, Telvin Smith, Leonard Fournette and T.J. Yeldon of the Jacksonville Jaguars did not show up on the field before their game against the New Orleans Saints until after the anthem was over, according to Florida-Times Union reporter Phillip Heilman.
Players have criticized Goodell's ban, calling it an infringement on their right to protest peacefully. Many vowed to risk the fine and continue protesting, despite the policy.
"What NFL owners did today was thwart the players' constitutional rights to express themselves and use our platform to draw attention to social injustices like racial inequality in our country," Jenkins said in a statement in May.
"For me," he added, "this has never been about taking a knee, raising a fist or anyone's patriotism but doing what we can to effect real change for real people."
The NFL players' union filed a grievance against the NFL in July, arguing the policy is inconsistent with its collective bargaining agreement and infringes on player rights.